When thinking of any kitchen window treatment the one thing that you want is to flatter the rest of the décor of the room. Because the kitchen has so many wood surfaces with the cabinets, one very good way to do that is to choose interior wood shutters. They provide a natural beauty and can easily be matched to any surrounding surface. They are also the only window covering that can be added to the value of your home in an appraisal.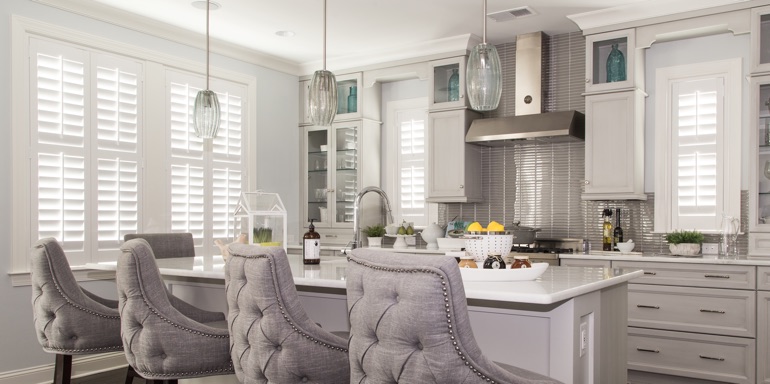 Wood shutters have many different benefits at providing insulation. They help with energy efficiency; they help to maintain indoor temperatures, and can greatly cut down on noise seeping into your home from outside. In fact wood is probably the best insulator you can pick for your kitchen. According to research is takes about 14 inches of concrete, 6 inches of brick, or 1,700 inches of aluminum to get the same insulating quality as a single inch of wood.
Choosing wood shutters for your kitchen windows is also great for the environment. Out of all your options wood is the only material that comes from a completely renewable source.
Another great reason to choose wood shutters for your kitchen windows is how authentic they look in your home. Since there are numerous sources to choose from including poplar, oak, or basswood, you can match almost any pattern or wood grain you like. In addition they can be stained if the color isn't quite right.
If the windows in your kitchen are close to a heat source, like the stove, then you may want to choose a wood composite instead. Wood can be warped or damaged by being in contact with heat or water. But a wood composite gives you the same look, but has the durability and ease of cleaning that vinyl does. These composites are usually limited in color. They cannot be stained and usually the only color available is white. They may be more expensive than other types of blinds including wood but the fact that you won't have to replace warped blinds in a few years makes up for the price.
You May also Like This : 5 Decorating Styles to Spruce up Your Home
Both wood and wood composite blinds are available for kitchen window treatments at most blinds retailers. This includes hardware stores and can even be found at a great price online. Most shutters are also very easy to install even if you have never installed blinds in your home before.
Custom Shutters for Kitchen Windows
There are many companies out there that claim they are selling custom shutters for your kitchen windows. In reality that may be stretching the truth and they may instead be selling customized interior shutters. These kinds of shutters are pre-built stock sizes that can then be cut down or hinged together to fit the specifications of the buyer.
Generally this type of pre-made shutter will result in having shutters that don't fit your windows very well. The shutters will not be sized proportionately to your windows and the integrity of the panels could be compromised because of the trimming that was done. Other companies sell synthetic shutters that are made in much the same way. They have pre-made rails, louvers, and stiles that are then trimmed to the right size. The same problems apply as with customized shutter.
However, if you look in the right place you can find companies that sell completely custom shutters for your kitchen windows. These shutters are specifically made and designed on an order-by-order basis. Each individual window will be made separately and at the time the order is placed. This may sound like the ideal situation but generally they can be made poorly and the quality is not really something you want in your home. If you are going to be spending all this money on kitchen window treatments the last thing you want is a low quality product.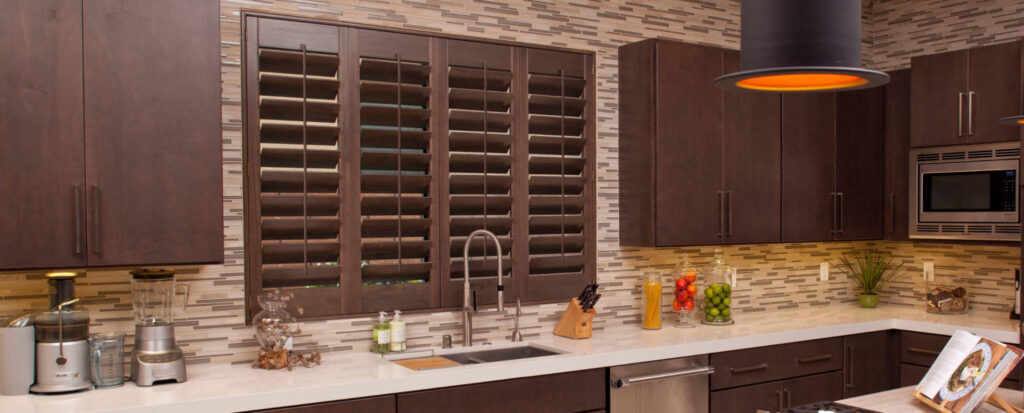 As a rule anything that claims to be a custom shutter has pre-made stiles and rails that are uniform throughout every product being sold. So a lot of the time when you hear that they will be a perfect fit for your window the result is less than ideal.
The best idea to buying shutters is to measure the kitchen windows first and then buy. This way you will know exactly what you need and what will fit your windows. This will allow you to comparison shop several companies for the best shutters without worrying that you will end up with the wrong size. You should always avoid companies that offer custom style shutters and figure out what size you need the old fashioned way.
Finding Budget Shutters for Your Kitchen Windows
While it is a dream of most homeowners to be able to buy high quality interior wood shutters for all your windows, that is often not very practical. If that is too expensive for your kitchen window treatment budget then there are many other options available. You can get vinyl, polymer, or PVC and all of them will be more affordable but can still deliver on style without breaking the bank.
The last thing you want is to find a cheaper set of blinds for your kitchen windows and they look just as cheap. To prevent this there are a few pointers to keep in mind while shopping for your new kitchen window treatments.
You May also Like This : Working at Soberlink
If you really want real wood for your interior shutters then your best bet is probably going to be basswood. This is a hard wood and has a very uniform grain to it. This means that it is very easy to use this wood and make shutters and it is also idea for painting or staining. For all of these reasons it is likely to be the most budget friendly of the real wood shutters.
Wood composite blinds are a good way to get the look of wood without the price tag of real wood. Composite blinds are as durable and easy to clean as vinyl but give the look of having real wood. They are probably idea for kitchen use since they will not warp or discolor when exposed to heat or moisture. These blinds cannot usually be stained however so your choice in colors may be limited.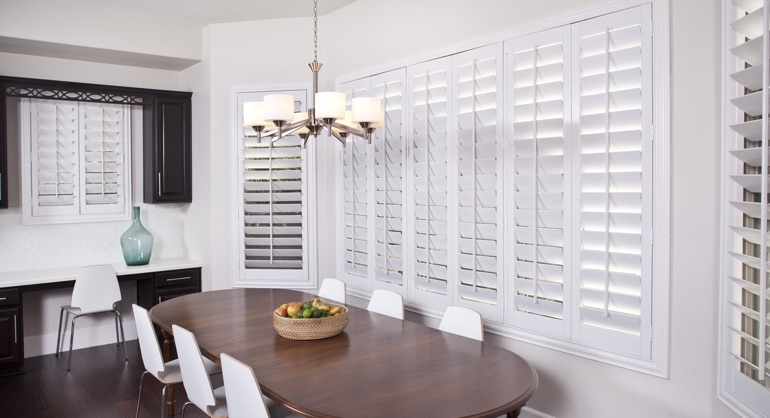 It is always important to research before you choose a discount set of blinds. Some brands will provide a better price for a good quality product and those are the brands you want to find. Some retailers may also sell the exact blinds you are interested in for a much lower price if you look in the right place. With just a little time and effort, you can find blinds that will add style and color to your kitchen windows.
Another way you can save money is by determining how you are going to mount your new blinds. Sometimes this can be very easy but other times you may have to buy and install hanging strips to the outside of the window, or something similarly complicated. Most reputable companies will offer information about how their blinds are best installed so that you can find the easiest way for you to do so. With all of this information in hand you can get beautiful kitchen window treatments without breaking your budget.