Have you heard of the Boho look? Also known as bohemian, it is becoming very popular in the fashion world. It is unusual to modern styles but is quite easy to pull off and suits most people. You will need the right clothes and accessories to match. A good and relatively cheap way to offset the look is to acquire some Boho Jewellery; a popular choice is to add a gold charm bracelet.
Who Wears It?
Today the Boho style can be worn by anyone, but the picture it portrays is of one of a creative and free-living person. You could say it is similar to the hippie style of the 1960's only more refined. The first people to carry the look in a fashion point of view were Virginia Woolf and Vanessa Bell in the early 20th century.
The word bohemian originates from the French word for gypsy, or traveler, as the first people to wear this type of clothing were travelers or refugees from central Europe.
The style evolved to become known as Boho chic in the early 21st century.
What is the Boho Look?
The Boho look is for both men and women. That is what makes it so popular and versatile. It's really can be worn by anyone, as long as your know-how. It incorporates a lot of hippie style dress, in particular, long flowing clothing, with no defined shape. It is an informal type of dress but can be neatened up to a degree if you are looking for something a bit fancier to wear to a special event or work. To do this you could try pairing a long flowing top with skinny jeans.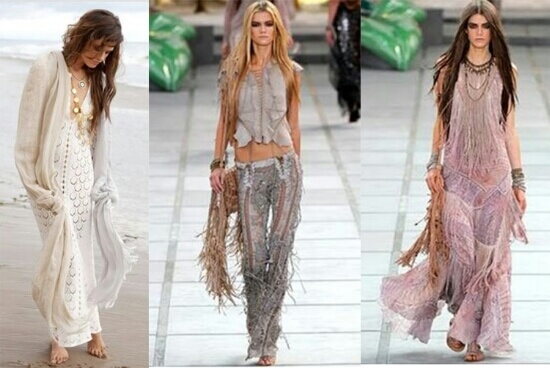 The style used to be an unpopular choice as it signified that the wearer was poor and was resorting to wearing tatty, second-hand clothes. It was a symbol of poverty but now in the 21st century that has changed completely. The main thing to remember is that the clothes should not be tight-fitting. Be aware if you have curves and want to show them off then you might need to adapt the look to suit your needs. The Boho style can make a curvy person seem a little heavier than they are. This is due to the shapelessness and adding of multiple layers. If you don't mind then go out and try a few styles to see what you like best.
Some examples of Boho clothes are as follows:
A Maxi skirt: A plain one, generally any color but neutrals work best, make sure the skirt is free-flowing and not too puffy. these are a key base in making up your wardrobe
Brown or grey ankle boots: These neutral-colored ankle boots go well with most outfit choices. A good choice is the boots that are loose around the ankles. These will compliment both short and long skirts as well as skinny jeans.
Headwraps and hairbands: These are a staple in any Boho wardrobe, they can be worn in many different ways, depending on the look you are after.
A patterned Maxi dress: This is essentially a complete outfit, not much needs to be done, make sure you choose a dress with a geometric pattern, as these look the best.
Knitted cardigans and jumpers: Great for the colder months, but to pull off the Boho look, you will need to stick to lacy knit and semi see-through versions. They are great if you want to add layers to your outfit, or to even add some extra color.
Tunic T-shirts and blouses: The looser the better, you want this item of clothing to flow. You Have several options here, it's all about personal choice, but a good look or go for is anything with wrinkled cotton, or embroidery to give it that authentic Boho look. If you find that you don't like this particular type, you can opt for a simpler tunic, in a neutral color; layer it with a vest to get the most out of it though.
This is just a small sample of the kind of clothes you can wear, there are many others out there and it is up to you to choose what you feel most comfortable in.
Boho Jewellery
Anything can be work as Boho. Nothing has to match. It's about layers. The most popular Boho jewelry items currently are anything with big beads, but can also include the use of a gold charm bracelet. Choose what you think suits your outfit best to get the most out of your jewelry.
Look out for anything that has a hippie look to it, feathers, gold, and leather to name a few. Pay attention to the colors too, you will want earthy colors such as browns and greys. Gold is also a good color if you want to add a bit of sparkle to your look. It should be quite easy to find what you are looking for!